Daily Reports
Oct 11th, Tuesday
16:30-21:00; Angel: Rainy and foggy after the weekly maintenance. Slight snowfall. The atmosphere was quite unstable after that, but mean tau has continuously dropped; still being unstable. Preparing setup for NIKA2.
21:00-03:00; Stergios, Angel: Unfortunately, tau raised above 1 at the beginning of the shift; unstable atmosphere. At ~02h tau dropped up to ~0.7, with clear signs of relative atmospheric stability. DAQ of NIKA2 was started at 02:30 using the run72_tp_old_sweep.ini file ('old sweep': see Monday's report: https://publicwiki.iram.es/DailyReportsNika2Pool101022) as run72.ini file in order to check the instrument, main scripts, and quick data reduction before the science observations. Best of resonances (on-sky) gave the following bad/total KIDs relations: Ar1 138/1055; Ar2 123/573; Ar3 88/1056.
Oct 12th, Wednesday
03:00-09:00; Quang, Stergios, Angel: Despite the average opacity was quite high for NIKA2's standard, we decided to carry out some checks with the instrument (first time on-sky since March 3rd), starting with a small pointing session (110 < Az. < 305 deg., 32 < El < 71 deg.) after a good focus. Pointing corrections, averages, and rms are given in the table below:
| | | | | | |
| --- | --- | --- | --- | --- | --- |
| Source | Azimuth | Elevation | tau_225GHz | Azimuth | Elevation |
| 3C454.3 | 304.49 | 32.63 | 1.00 | 4.80 | 1.00 |
| 3C454.3 | 260.17 | 39.15 | 0.76 | -4.50 | -2.40 |
| Uranus | 261.04 | 38.18 | 0.72 | 0.10 | -3.30 |
| Uranus | 173.19 | 69.57 | 0.74 | -1.30 | -0.30 |
| Uranus | 212.62 | 66.66 | 0.79 | -1.90 | 3.20 |
| Uranus | 178.88 | 71.11 | 0.68 | -2.60 | 3.40 |
| Uranus | 235.49 | 59.20 | 0.90 | -2.10 | 3.20 |
| Mars | 182.77 | 69.65 | 0.69 | -3.80 | 0.70 |
| Mars | 110.36 | 60.85 | 1.17 | -3.10 | -1.40 |
| HLTAU | 213.86 | 54.96 | 0.69 | -0.50 | 0.50 |
| Total average | | | 0.814 | -1.34 | 0.17 |
| Total rms | | | | 2.62 | 2.37 |
A couple of calib_1scans on Uranus was obtained (20221012s20 and s42), as well as a skydip (s32). Atmosphere instabilities increased gradually during this test session. Regarding telescope and instrument, everything seems to be ready for starting the observations. At 05:50 we switched to EMIR. At about 06h and up to the end of the shift, Quang observed on behalf of the EMIR backup project 051-22. The tau from taumeter fluctuated a lot from 0.6 to 1.7. Tau at ~100 GHz from MRTCAL was stable: ~0.1.
09:00-15:00; Matthieu (on hold), Angel: Mean opacity was about 0.6 and 1.2 over the shift. Project D02-22 was observed with EMIR-E0 (6 reps. on LH206718 and 4 reps. on LH93597). Noncompatible opacity for EMIR-EO observations (Wsw) after ~12:45. We parked the telescope at ~13:00. Dense fog and light rain after that.
15:00-21:00; Gianluca (on hold): Bad weather, telescope stopped.
21:00-03:00; Angel: Opacity dropping to ~0.7, relatively stable. Continuing with EMIR backup programs, waiting for a qualitative improvement. Starting observations with 1 rep. on field C3, setup 1, project 018-22. Tuning with setup 2. One rep. on the fields C1, C2, and C3. Mean tau_225GHz was about 0.75 with some noticeable spikes, despite tau at ~100 GHz from MRTCAL being < 0.25 (=> pwv < 8 mm in the line of sight). Switching to project 043-22 at ~02:30 for observing the pre-stellar core L1544.
Oct 13th, Thursday
03:00-09:00; Quang: Today, as part of the NIKA2 pool, I observed project 043-22 using EMIR. The tau from taumeter was quite good for that: 0.5 to 0.8.
09:00-15:00; Guilaine: Observing with EMIR project 083-22. Do first pointing/focus on Mars, then pointing on a source close to the target. Observing source 8556-high, problem with the wobbler system, scan 176 canceled. Then do 8 repetitions. Focus on 0923+392. Observing source 18857-high, 3 repetitions, pointing with oscillations (due to anomalous refraction?) PWV is also rising, reaching 7mm. Scan 322 canceled and stop at 12:25UT.
15:00-21:00; Gianluca: Observing with EMIR between 6:00PM to 8:00PM CET (project 019-22). Between 8:00PM-9:30PM we moved to project 083-22, but weather conditions were unstable after pointing+focus, and we stopped the observations.
21:00-03:00; Stefano + Angel: the sky improved. YAY! We switch to NIKA2. YAYAYAY!!! Tuning OK. KIDs lost (old sweep!): Ar1 73/1055, Ar2 125/573, Ar3 64/1056. Starting pointing/focus; peak to peak sky along the timeline +/- 2 Jy at 2 mm. Tau(225) drops to ~0.2. We start 199-16 and observe 5 repetitions of PSZ1G080 using the old sweep. At 22:30 UT we perform a whole calibration sequence: skydip; then move to Uranus for pointing, focus, pointing, beammap (old sweep, can nr. 20221013s309), calib1scan (scan nr. 20221013s310), pointing, focus, pointing, SWITCH TO NEW SWEEP (~40 minutes lost), beammap (new sweep, scan nr. 20221014s1, note that box "I" is lost! We do what we can, and we decide to proceed anyway so to have at least one beam map take with the new sweep - although in precarious conditions - to be processed before the weekend), calib_1scan (scan nr 20221014s2), finally SWITCH back to the OLD sweep (this time it took only 10 minutes).
Additional notes:
a) with the old sweep, the PIIC QL reports that the pointing pixel (central KID of Ar2) is not working. b) The make-imbf of the beam maps delays the PIIC QL analysis of what comes later (10 minutes delay after scan nr. 20221013s309). I need to wait nevertheless, because I have to properly prepare for the next important beam map.
c) We switch between old/new sweeps by copying the relevant ini files onto run72.ini. We have chosen to keep the numeration 72 for both sweeps, since they belong to the same cryo-cycle. Therefore we have run72_tp_old_sweep.ini and run72_tp_new_sweep.ini (tp=total power).
Problem with DAQ at ~00 UT:
When restarting the DAQ in the process of switching to the new sweep, the DAQ had difficulties to start. It showed different symptoms: it had lost many KIDs and boxes; it was not reacting to commands; it died at start. After many attempts, we finally managed to recover, but box "I" remained almost completely lost. We tried with both the new and old sweep and these problems were there in both cases. When loading the new sweep, the DAQ is also very slow at measuring KIDs resonance frequencies. Number of lost pixels (new Sweep, box "I" lost): Ar1 154/1061; Ar2 8/581; Ar3 60/1077
Oct 14th, Friday
03:00-09:00; Quang: Today we observed with NIKA2. The weather was good (taumeter ~0.22-0.29). I started with 122-16 project. When the source was too high, I switched to 093-22 project (1 rep. on PSZ2G186), then back to 122-16 again. Observed B211 and B213.
09:00-15:00; Alexandre: After focus, started with calib_1scan on CRL618 and ALFORI. Then switched to COSMOS. At 11:30, following Dave's suggestion, we rebooted the electronic card that controls the box "I" and it was resuscitated successfully. Thank you! Starting from scan 20221014s66 we have all boxes active again. Still using the old sweep. Lost KIDs: Ar1 58/1055; Ar2 130/573; Ar3 52/1056. Continued on COSMOS until 11UT, switched to project 095-22 with AR2747. Six scans were obtained (~0.5 rep). Speed problems at high elevation (40 arcsec/s is recommended instead of 45), tau rising to 0.4, difficult focus solution.
15:00, Stefano and Angel: We installed the new SWEEP (dated 2022/10/10) permanently in the DAQ. As mentioned yesterday, the NIKA2 run number is kept to be 72. Number of KIDs lost: Ar1 68/1061; Ar2 5/581; Ar3 92/1077. We also successfully install the new DAFs for the PIIC QL monitor. Note that these DAFS are very preliminary: the beammap taken last night with the new sweep is missing the box "I", therefore the KIDs that belong to box "I" are not used in the PIIC QL monitor processing for now. The data are there, but not used in the quick look. No big deal. As soon as we have the chance to observe new beam maps with the new sweep and all boxes active, the DAFs will be updated and the PIIC QL will also use box "I". First scan on 1633+382 with the new sweep: 20221014s119. Focus and new pointing (20221014s125) after that OK. Thank you Robert for processing the beam map so promptly and for teaching Stefano how to install the new DAFs.
16:00-21:00: Gianluca: We observed with EMIR between 4:30-7:30 PM CET (project ID 019-22). We then moved to NIKA2 (project ID 089-22 until the end of the shift). Acquisition restarted at 19:45. Number of KIDs lost: Ar1 70/1061; Ar2 3/581; Ar3 99/1077.
21:00-03:00; Stefano. I let the observations of 089-22 reach completion and then I start with enthusiasm on 160-16 observing NGC7731, but it is soon too high (~74 deg of elevation) and therefore I have to interrupt. @20:15 UT tau ~0.2 and move to 199-16 for 3 repetitions on PSZ1G080 (source completed!) and 2 repetitions on PSZ2G045. Beam map on Uranus, with new sweep and all electronic boxes working properly: scan 20221014s250 (wind gusts ~10 m/s). Calib_1scan 20221014s251. Skydip. Then I switch to 008-22, observing IC348 (2 repetitions, 39 minutes each).
Notes:
a) at 00:30 UT the taumeter starts giving increasing value of tau(225). Nevertheless in the directions of the observations the sky is stable and the peak-to-peak sky variations along the timeline of pointing./focus scans keeps within +/- 1 Jy. Therefore I go on with science (008-22 2nd repetition of IC348) in this direction of the sky despite what the taumeter says.
b) Significant delays of the make-imbfits when dealing long scans (even the skydip), that induce long waiting times before starting the processing of subsequent pointing scans.
Oct 15th, Saturday
03:00-09:00; Quang: Tau fluctuates from 0.23-0.6. I observed 160-16 (2 reps. on NGC 337). At ~05h we switched to EMIR for observing backup programs as the opacity increased. Several tries for getting good focus. A problem with the H-polarization of E090 was fixed (quite different focus fittings between H and V). I observed the backup project 051-22 (NGC 1977, 1 rep. of map1-, map2-, and map3-horizontal, and 1 rep. of map1- and map2-vertical).
09:00-15:00; Xavier, Angel: starting with tau_225_GHz ~0.7; still observing EMIR backup programs. We continued on NGC 1977 and did 1 rep. of map3-vertical and 1 rep. of map4-horizontal until the target reached El. 25 deg. At ~10h we switched to project 083-22 to observe the first-priority target 48361-high. Nice focus and pointing on Mars after tuning; <pwv> < 5 mm in the l.s.o. according to MRTCAL, despite tau_225 GHz fluctuating between 0.45 and 0.65. Spindle tracking error after starting science scans. Scan 20221015s123 canceled. Scans 20221015s121 and s122 probably affected (please check). After fixing this issue, we launched 5 rep. on 48361-high reaching an RMS ~1.5 mK for 12CO(1-0). At ~12:30 we planned to continue the observation of the source 29349-high (CO line detected with an RMS ~2.5 mK until now). We had a couple of bad pointings on 1633+382 (anomalous refraction). Switching to project 'test'. After a new attempt for pointing, the telescope was stopped at ~13h because of the high wind speed. We tried to resume the observations at 13:45. The telescope was parked at ~14h, again because of wind gusts (>21 m/s).
15:00-21:00; Gianluca: no observations until 20:30 due to high wind speed. NIKA2 observations resumed with the project 160-16. DAQ restarted at 20:25. Number of KIDs lost: Ar1 67/1061; Ar2 9/581; Ar3 90/1077.
21:00-03:00; Stefano: the sky improves quickly and by 22 UT tau(225)~0.2. The peak to peak sky variations along the timeline varies between +/- 2 Jy and 5 Jy. Observations: 160-16 three repetitions on NGC7331 for ~76 minutes in total; 199-16 three repetitions on PSZ2G045; calib_1scan on Neptune (scans 20221015s180/208) and Uranus (20221015s212); Beam map on Uranus (20221015s211); 008-22 three repetitions on IC348 for a total of 105 minutes. The taumeter-tau increases significantly in the last hour or so, but in the l.o.s. of IC348 the sky is still good (low peak-to peak sky variations along the timeline, stable beam) therefore I keep observing.
Oct 16th, Sunday
03:00-09:00; Quang: Opacity about 0.6 and increasing. However, fine pointing and focus on 0439+360, peak to peak variations of 5-6 Jy/b (2 mm). Beam at 2 mm, 17.7" x 20.3" (a bit elongated; El. 76.7 deg.) after focus. One rep. (two maps) on B211 for GASTON was launched while the opacity increased. Peak to peak variations of ~20 Jy/b (2 mm). Mean RMS of those maps ranges from 68 to 74 mJy/b (2 mm), which is between ~15 to 28% higher than the RMS of similar maps obtained the past Friday with an opacity of ~0.3. After that, I tried a skydip. The scan was canceled because of high wind speed. Telescope stopped at ~04:30.
09:00-15:00; Xavier: Partly cloudy, tau > 1, wind gusts ~10 m/s. At 09:20 opacity gave an apparent chance and it was tried pointing using EMIR/E090: dissa-pointing. The telescope is still stopped. It started to rain at ~11h.
15:00-21:00; Gianluca: strong wind and thick clouds. The telescope is parked.
21:00-03:00; Stefano: strong wind and light rain. The telescope is parked. Top wind speed: 43.1 m/s.
The beauty of Nature: check today's timelapse!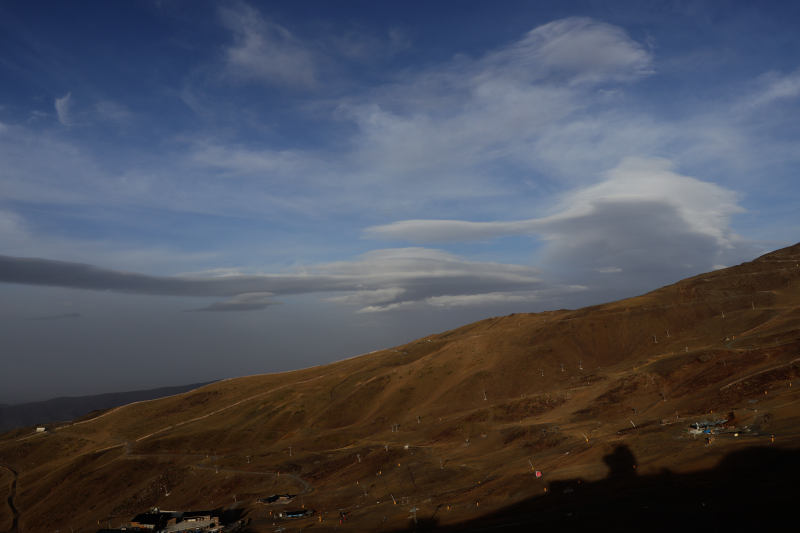 Oct 17th, Monday
03:00-09:00; Quang: The telescope is parked. High wind speed and opacity. At the end of the shift the opacity dropped to 0.5-0.6, but the wind gust speed has been about 28-30 m/s in the last hour.
09:00-15:00; Nicolas: Bad weather. Opacity rising steeply again at ~10h.
15:00-21:00; Angel: tau_225_GHz tends to stabilize at about 0.5-0.6, but wind gust speed ~20-22 m/s. Still stopped.
21:00-03:00; Stefano: high wind. The telescope is parked.
Since we could not observe in the mm, we performed some optical imaging: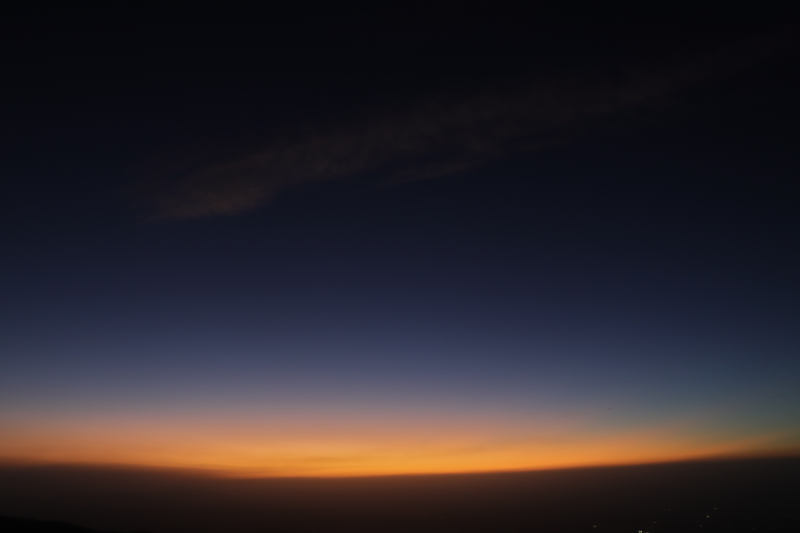 Oct 18th, Tuesday
03:00-10:30; Quang: Telescope parked due to the high wind speed.